About D.A. Davidson & Co.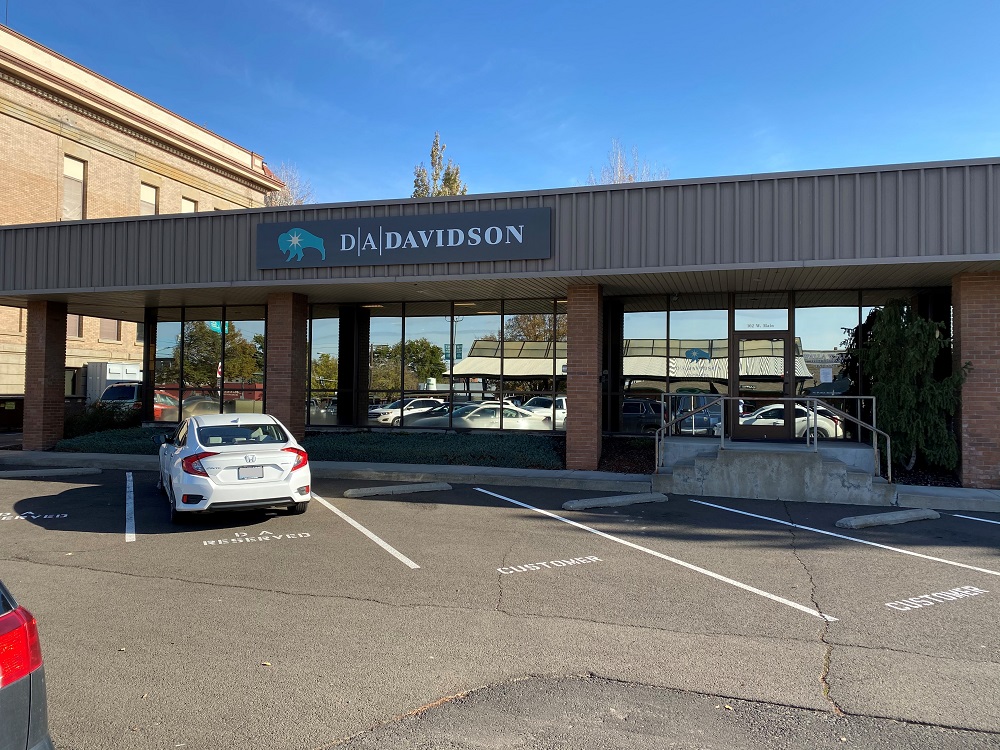 Founded in 1935, D.A. Davidson Companies is an employee-owned financial services holding company headquartered in Great Falls, Montana. D.A. Davidson has office locations across the nation and offers financial products, services, and straightforward advice. The family of D.A. Davidson Companies includes Davidson Investment Advisors, D.A. Davidson Trust Company, and three divisions of D.A. Davidson & Co.: Wealth Management, Equity Capital Markets, and Fixed Income Capital Markets.
The Wealth Management division of D.A. Davidson offers wealth planning that includes a wide range of financial solutions and services. With a focus on personalized service, we work as our clients' trusted advisors to develop strategies for building and preserving long-term, multigenerational wealth.
We believe there is only one way to navigate through the wealth of financial service options: straight forward. We offer clear strategies with smart solutions that match your goals, helping you every step of the way as we show you the path to achieve them. Our personal approach is rooted in the values, stability, and discipline of our employee-owned company that is as independent as you are.
For years, the financial professionals at D.A. Davidson & Co. have offered the best in personalized service to individuals, families, businesses and institutions.
Clients come first
D.A. Davidson is the largest full-service investment firm based in the Northwest. We continue to grow as more investors hear of our reputation for treating clients with care and respect.
Personalized solutions
With offices across the U.S., we provide a broad base of services and solutions, along with the expertise to help you build a brighter future — whether that means planning for a newborn's college education or merging another business with your own. At D.A. Davidson, we deliver traditional investment services, tools and advice while continuing to develop innovative solutions. We empower our investment professionals with experienced staff and service-driven technology so they can keep you abreast of changes affecting your portfolio or transaction.
Professionals working for you
Working in tandem with our focus on individual investors are our growing capital markets groups, who offer nationwide expertise for institutional investors, businesses and other entities. Our clients benefit from extensive capital markets capabilities, including investment banking, public finance, institutional sales, trading, research, corporate services and debt underwriting. Clients also have access to the professionals in our sister companies: D.A. Davidson Trust Company, Davidson Investment Advisors and Davidson Fixed Income Management.
Community tradition
We are headquartered in the West, away from the crowds of Wall Street. Our expansive platform is interwoven with strong ethics and a deep sense of responsibility to our communities.
Investor products and services
Financial Planning
Wealth Management
OTC and Listed Securities
Government Securities
Municipal Bonds
Corporate Bonds
Insured Brokered Certificates of Deposit
Money Market Funds
Mutual Funds
Corporate and Public Finance
IRAs, Retirement and Pension Plan Services
Insurance and Annuities
Managed Assets Programs
Trust and Estate Planning through D.A. Davidson Trust Company
College Planning
In-House Research
DADVANTAGE Complete Cash Management
Prestige Account Benefits
Loans on Securities
Other solutions too numerous to list